< Back to Newsroom
Skyline Awarded Stevie® at the 2023 International Business Awards
EAGAN, MINN. – October 3, 2023 – Skyline Exhibits, a leading provider of brand-elevating trade show experiences, was named the winner of a Bronze Stevie® Award in the Brand & Experiences - Exhibition Experience category in the 20th Annual International Business Awards®. This recognition highlights Skyline's exceptional achievements at EXHIBITORLIVE 2023, a conference and exhibition for marketers and exhibit professionals.
The International Business Awards are the world's premier business awards program. All individuals and organizations worldwide – public and private, for-profit and non-profit, large and small - are eligible to submit nominations. The 2023 IBAs received entries from organizations in 61 nations and territories.
The program received more than 3,700 nominations from organizations of all sizes and industries this year. Skyline Exhibits emerged victorious amidst global competition, earning a Bronze Stevie® Award in the Brand & Experiences - Exhibition Experience category.
Skyline set ambitious objectives for the exhibit, including unveiling its refreshed corporate brand and launching its proprietary CMX methodology. CMX (Custom Modular Experience) is a solution designed for marketers to create an engaging exhibit that aligns with business objectives and provides measurable insights to improve performance and achieve marketing goals.
The challenge was crafting an immersive attendee journey that would seamlessly integrate the introduction of CMX, amplify the reimagined brand, and qualify leads on the exhibit floor. Through a data-driven strategy, Skyline curated engaging hands-on and digital activations that captivated attendees and provided an informative journey through the exhibit.
Wendy Gibson, CMO of Skyline Exhibits said, "It was great to see the strategy come to life with a custom modular exhibit experience – and just as importantly – to measure the success of our exhibit using our new measurement methodology."
"We introduced CMX because we heard from our clients that they need help measuring the success of their exhibits and they are searching for providers that have measurement capability and understand its importance at trade shows. We do. That's why we now offer CMX - Custom Modular Experience - which combines custom modular exhibit design with digital experiences and measurement. With CMX, you can justify your trade show spending and continually improve the performance of your exhibiting program."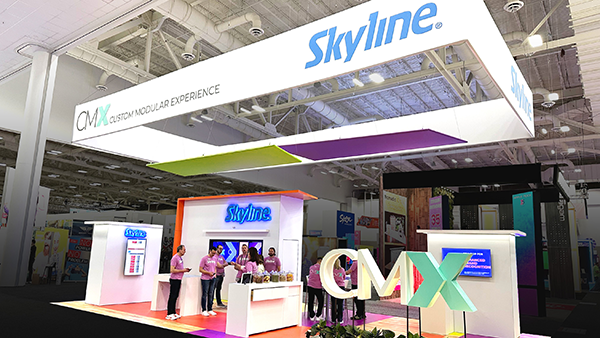 Skyline's Creative Director of Exhibit Design, Adam Deming, spoke of the design challenge saying, "This exhibit challenged us to balance introducing two brands – the CMX brand and the refreshed Skyline brand – in one physical space. Additionally, we incorporated four digital activations, measurement tools, and high-impact graphics into our custom design. I'm proud of the work of our team and humbled to have won."
Deming leads the creative team that was also recognized in EXHIBITORLIVE's Portable Modular Awards for excellence in conceptual designs.
The winners of the Stevie Awards were carefully selected based on average scores provided by over 230 executives worldwide. Commenting on Skyline Exhibits' achievement, the esteemed judges of the Stevie Awards expressed their admiration for the company's approach to the exhibition, with one judge commenting, "The use of a well-defined methodology shows strategic planning and intentionality."
And another adding, "This shows a comprehensive strategy for ongoing engagement and conversion opportunities."
Maggie Miller, President of the Stevie Awards, commented, "Nominations to the IBAs get better every year, and this year's class of Stevie winners is the most impressive yet. The winners have demonstrated that their organizations have set and achieved lofty goals."
The outcome was a resounding success, with Skyline's exhibit achieving its objectives. Engaging digital and hands-on activations amplified key brand messages, creating a memorable experience for attendees.
About Skyline Exhibits
Working with brands of all sizes, Skyline Exhibits partners with marketers to create brand-elevating trade show experiences through modular structures, digital activations, high-impact graphics, custom fabrication, and comprehensive services. With a strong focus on excellence, Skyline makes great design accessible to everyone. To learn more, visit skyline.com.
About the Stevie Awards
Stevie Awards are conferred in eight programs: the Asia-Pacific Stevie Awards, the German Stevie Awards, the Middle East & North Africa Stevie Awards, The American Business Awards®, The International Business Awards®, the Stevie Awards for Women in Business, the Stevie Awards for Great Employers, and the Stevie Awards for Sales & Customer Service. Stevie Awards competitions receive more than 12,000 nominations each year from organizations in more than 70 nations. Honoring organizations of all types and sizes and the people behind them, the Stevies recognize outstanding performances in the workplace worldwide. Learn more about the Stevie Awards at www.StevieAwards.com.
Contact:
Mary Etchison
651.234.5912
maryetchison@skyline.com