< Back to Newsroom
MarCom Group wins Creative Communication Awards
Last month, MarCom Group was announced as the winner of two International Creative Communication Awards, one for Trade Show Exhibit Design and one for Animated Commercial.
The Creative Communication Award (C2A) celebrates excellence and creativity in communication design, advertising and digital media.
Skyline partnered with MarCom Group to design an exhibit for their client, Air Force Civilian Service. Their goals with this exhibit were to make an impact on the show floor, attract attendees, and create an engaging, interactive experience to bring their brand to life.
These objectives were achieved by designing the exhibit with an open layout and multiple entry points, allowing for easy traffic flow and accommodating a large number of attendees. Digital brand activations including virtual reality, interactive augmented reality, and videos provided opportunities for attendees to experience the brand and increased engagement and allowed for meaningful conversation. The visual impact of the signature blue brand color was increased using additional lighting features.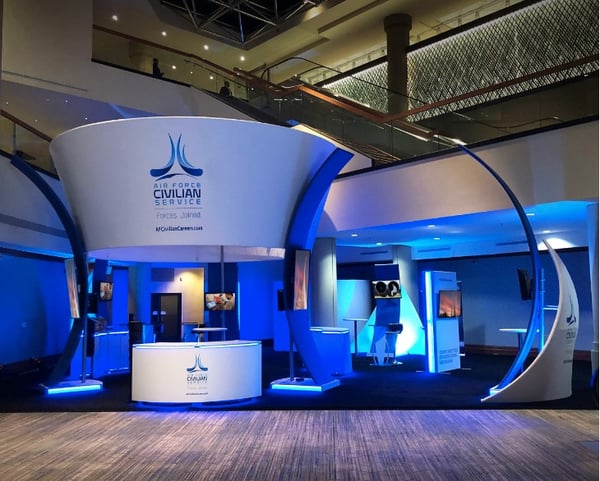 Congratulations to MarCom Group and Air Force Civilian Service on this recognition for their outstanding work. We are happy to build this partnership and help create memorable brand experiences.