< Back to Newsroom
New Graphics Equipment Produces the Industry's Best Graphics
Last year, Skyline Exhibits purchased a Monti Antonio sublimation transfer machine to produce our high-impact fabric graphics. The dye-sublimation process transfers graphic art from paper to fabric using heat. A roll of paper with the graphics artwork printed onto it, and a roll of blank fabric are each placed into the machine. The fabric and paper are fed through rotating cylinders and pressed together. A heated drum that reaches up to 400 degrees transfers the ink from the paper to the fabric. This process is consistent and precise, with outstanding color accuracy producing high-quality graphics.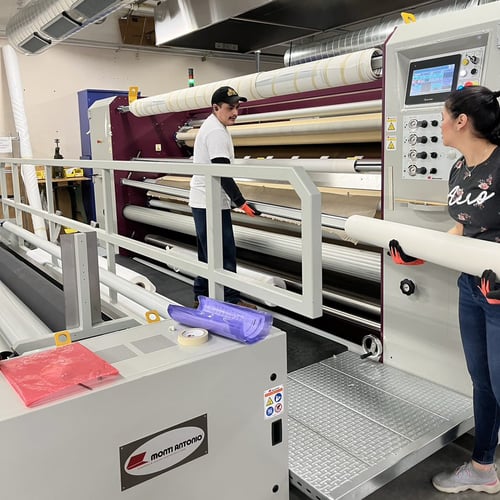 Over the past two years, exhibit demand has dramatically increased as the trade show and events industry rebounded. Busier trade show schedules meant Skyline needed to expand our graphics production capacity and speed to keep up with our busier schedule and maintain consistent lead times for our clients. One of the reasons we chose to source our graphics equipment from Monti Antonio is their reputation for the best technology in the industry. The Monti Antonio system uses an exclusive method of heating the cylinders, which allows for precise temperature control, ensuring uniform print quality.
The purchase of new graphics equipment has tripled our speed of graphics production and greatly increased our production capacity. This machine has larger cylinders with the ability for a much larger transfer size. Our previous machines were in the 20-inch diameter range and the Monti Antonio machine increased to the 40-inch diameter range. Increased capacity and speed allow our team to work efficiently and maintain consistent lead times and delivery schedules throughout busy seasons.
However, it is more than the technology that makes the Skyline graphics team excel. Our tenured team, many of whom have been with Skyline for over 20 years, have developed a proprietary process that optimizes the equipment's ability to produce the high-quality graphics for which Skyline is recognized. Our team's skill and attention to detail are what truly elevate the quality of Skyline's graphics.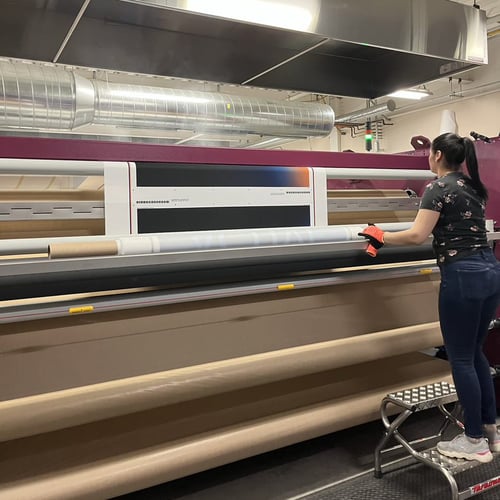 Ray Niedermayer has been with Skyline for over 35 years, starting in the graphics department. Over the years, he has watched it grow and progress to become a leader in quality and precision, and last year took on the role of Graphics Manager. "I have complete confidence in the expertise of my team and our state-of-the-art technology to produce high-quality graphics that exceed our clients' expectations."
The graphics team is excited to have state-of-the-art technology that fully utilizes their skillset and provides the highest quality graphics for our clients.